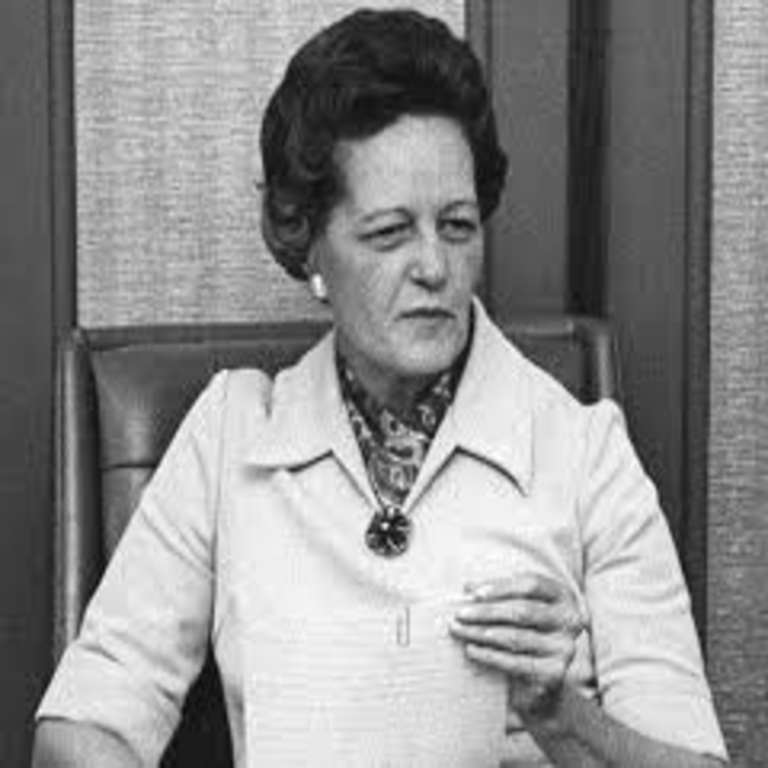 Dr. Emily Taylor devoted her life to changing the perception of women in society, as well as helping them to explore opportunities in academics and professional careers. She was a leader to educators, women's organizations and groups concerned with the status of women.  
Dr. Taylor served as Dean of Women at KU from 1956 until 1974. Before coming to KU, Dr. Taylor held teaching and administrative positions at Northern Montana College, Indiana University, and Miami University of Ohio. In 1975, Dr. Taylor left KU to become the Director of the Office of Women in Higher Education at the American Council on Education. In 1985, Dr. Taylor retired from ACE, but remained active in women's issues and lectured across the nation. 
Dr. Taylor was a nationally recognized leader on women's issues. At KU, she created the Women's Resource and Career Planning Center, which now bears her name as The Emily Taylor Center for Women & Gender Equity. Dr. Taylor was instrumental in establishing many innovative programs at KU such as Nunemaker Center, Hashinger Residence Hall for fine arts students, and many other programs.
Dr. Taylor had a long list of achievements and honors. She founded the first university commission on the status of women in the United States, which is still a strong student organization on campus holding the same name from the 1970s. Dr. Taylor also produced and moderated, A Feminist Perspective, a radio program for four years. She served on the Kansas Governor's Commission on the Status of Women from 1969 to 1975. Dr. Taylor was elected president of the National Association of Commissions of Women, 1975-1977. Her list of recognitions is remarkable: KU Women's Hall of Fame, KU's Distinguished Service Citation, the Leadership Lawrence Don Volker Award, the Kiwanis Substantial Citizen Award, Kansan of Achievement for Civil Rights, induction to the Ohio Women's Hall of Fame, induction to the Urbana University Hall of Distinction, and induction to the Ohio Independent colleges Foundation Hall of Excellence. Dr. Taylor has been recognized by her peers in student affairs, additionally receiving awards from the National Association of Student Personnel Administrators and the National Association of Women Deans, Administrators, and Counselors. 
During her tenure as director of the Office of Women in Higher Education, she helped establish a national program to identify women for high-level university administration jobs. Hundreds of women who participated in the program now are presidents or chancellors of U.S. colleges and universities or serving in high administrative posts. 
In retirement, Taylor continued to travel the country as a lecturer and consultant on issues related to women and education. She also became active in health care and end-of-life care issues, including serving on the Kansas Board of Healing Arts.